It can be challenging for new entrepreneurs to start a lean business. You probably expected that starting a business is hard. But what do I mean by lean?
The idea of a lean business originates from the Lean Manufacturing approach. It is a method that emphasizes eliminating waste and maximizing efficiency at every stage of production and delivery. In general, it's about finding ways to get the most out of fewer resources by removing any unnecessary steps or activities.
When applied to business processes, lean helps entrepreneurs achieve more with less. This means reducing costs while still delivering high-quality services or products. It's a great way to innovate and differentiate your business in the market.
In this post, I want to share my personal experience on the 6 tasks beginners should focus on when starting their lean business.
1. Identify Your Niche
Don't spread yourself too thin – focus on one area and dominate it like a pro. Identifying your niche is vital to operating a lean business. Find a problem or need in the market and create a solution that has yet to be thought of.
Analyze trends:

Keep up with the latest industry trends to spot gaps in the market.

Determine your strengths:

Determine what you're good at and choose a niche that aligns with your skills.

Create buyer personas:

Develop detailed profiles of your ideal customers to guide product development and marketing.
Investing the effort to locate an appropriate market niche is beneficial to differentiate from rivals and address customer requirements.
2. Research Your Competitors
Want to crush your competition? First, you need to know them inside and out.
Analyze Their Offerings:

Scope out their products, pricing, target audience, and unique selling points.

Study Their Marketing Techniques:

Check out their social media, email campaigns, and content marketing to see what's working for them.

Evaluate Customer Reviews:

Read reviews on Google My Business or Yelp to see what customers love or hate about them.
Using your gathered intel, create a plan that makes your business stand out. For example, if your competitors offer pricey products with limited customization, provide affordable options with personalized features. Remember, standing out is critical when starting a lean business venture.
3. Create a Lean Business Plan
A plan is a roadmap to success. It should identify the strategies and milestones you need to achieve in order to reach your goals.
The goal of a lean business plan isn't just about coming up with a detailed document – it's about making sure that every step counts towards achieving something. Remember, waste elimination is vital when starting a lean business!
Define objectives:

State what you want to achieve with your business.

Determine target customers:

Identify who will benefit from your products or services and how to reach them effectively.

Analyze competition:

Understand the competitive landscape by researching similar businesses in your niche.

Create marketing strategies:

Develop cost-effective methods for promoting your brand and reaching potential customers.

Evaluate financial projections:

Estimate revenue, expenses, cash flow, and other key financial metrics over time.
A well-crafted lean business plan guides decision-making and helps when seeking funding or partnerships. Remember to revise regularly based on market conditions and company performance.
4. Utilize Technology
Staying competitive and efficient in today's business world means embracing technology to streamline processes, reduce costs, and enhance productivity.
Here are some very popular evergreen solutions
Sales & Marketing Automation:

Save time and increase customer engagement with sales automation features from

HubSpot

or

MailChimp

.

Accounting Software:

Manage finances efficiently with accounting software like

QuickBooks

or

Xero

.
Unleashing the power of Openchat AI and ChatGPT
If you want to go beyond the standard digital solutions, artificial intelligence with the newest tools will have plenty of opportunities for you:
Get an AI-powered chatbot to automate customer service queries with

Openchat AI

.

Use

ChatGPT

to quickly generate high-quality content for your website.

Leverage

Midjourney

to create compelling images for your business.
Check out ChatGPT: Openchat AI For Beginners and OpenChat AI: 7 Businesses You Can Start Using Chat GPT.
5. Prioritize Customer Service
Excellent customer service is essential for any lean business, fostering customer loyalty and repeat business.
Listen actively to your customers' needs and concerns.

Handle complaints promptly and professionally, showing empathy and a desire to resolve the issue.

Personalize communications and remember customer preferences.

Invest in regular employee training to consistently deliver top-notch service.
By utilizing these approaches, you can craft enjoyable customer experiences, resulting in greater contentment and long-term commitment to your business. Remember, customer experience is king!
6. Monitor Progress & Adapt
Keep an eye on your KPIs to stay ahead of the competition and ensure your lean business is thriving.
Analyze data:

Use

Google Analytics

to analyze website traffic, customer behavior, and sales trends.

Benchmark against competitors:

Research industry benchmarks and competitor performance metrics to see how you do in your niche.

Gather feedback:

Collect customer feedback through surveys, reviews, or social media interactions to gain insights into their needs and preferences.
Being agile as a business owner is crucial, so be open-minded about changing course when needed.Stay adaptable by adjusting marketing tactics or pivoting product offerings based on new opportunities or challenges in the market.
Remaining flexible will help ensure long-term success for your lean startup venture.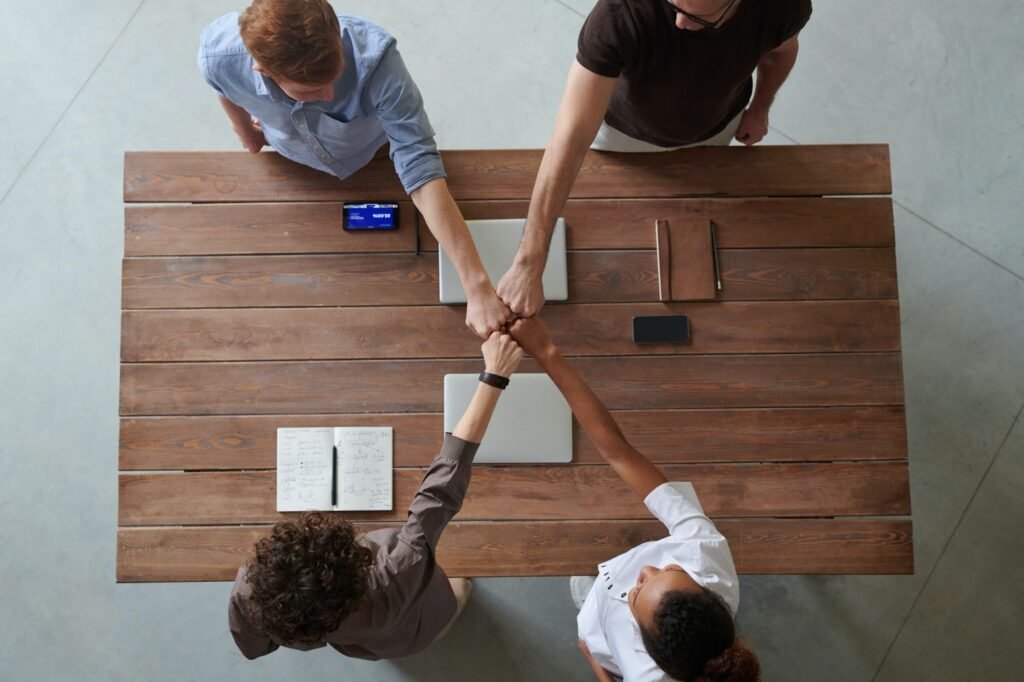 Photo by fauxels: https://www.pexels.com/photo/photo-of-people-doing-fist-bump-3184430/
Focus On Building a Lean Business to Succeed
To set yourself up for success in starting a business, it's essential to dedicate time and effort to careful planning. You should also stay focused on your goals and seek guidance from mentors or other successful entrepreneurs throughout the process.
Focus on these 6 things:
Identify your niche where you have credibility and can stand out from the competition.

Research your competitors and learn from their successes and failures.

Create a lean business plan that focuses on your goals and strategies.

Utilize technology to streamline your processes and save time.

Focus on providing excellent customer experience to build a loyal customer base.

Monitor your progress and pivot when necessary.
And remember it takes time and patience – you will become successful with time! The more value you provide, the better your chances of success. With the right attitude and dedication, you can make it happen! So remember to take advantage of the 6 ways to succeed as a beginner and build a genuinely lean business. Good luck!
About the Author
Aaron Yamamoto
Aaron is the founder of the blogging business www.jiishinya.com where he helps people independent of their gender, background, or education achieve success financially and privately. Despite learning English much later in his life (his native language is Japanese), he has been able to navigate the professional business world in English successfully. You can reach out to him directly through aaron@jiishinya.com