Optimizing the PC for gaming can be a tedious task if you are unfamiliar with PC hardware, top gaming laptops, software, operating systems, and the whole configuration of a system. Different games have their own minimum and recommended system requirements. Every game needs to have a set of hardware to run on nominal settings. These system requirements cannot be ignored and no amount of system optimization will help you to run a game if you do not have a specific hardware. We cannot run a new game on an older system or a high-end game on a normal budgeted PC.
So, the question occurs why is the game not running smoothly on your gaming PC that exceeds requirement.
Here we will tell you how you can improve gaming performance on your PC. These steps will work if you have a normal system or you have a fully fledged gaming system.
1 Upgrade the graphics and videos drivers:
Updating the drivers should be the first basic thing you should do if your system is unable to run the games smoothly. Every hardware has its own driver that helps the device to communicate with the Operating System. Graphics card manufacturers regularly release updates to the drivers. Updated drivers will help in increasing the performance of the graphic card.
You will find the latest version of the drivers from the hardware manufacturers website. You just have to know the name and version of the graphic card so you can download the correct drivers for your hardware.
2 Clean Your Startup and Shutdown Unnecessary Processes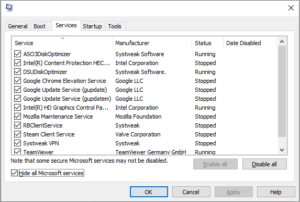 Cleaning up the start-up and shutting down the unnecessary processes will usually work for the older system that has many applications installed. Applications installed will have tasks and processes that will run in the background, running apps will use resources and will affect the performance of our system.
So, in order to free the resources of the system we need to close applications and programs running in the background. You can kill the application running in the background from Task Manager. It is also advisable to start the gaming after restarting the system as it will close any running applications on the system.
Some applications will run at the system start-up and when they run it will take some resources affecting the system performance.
To stop programs running at the startup open Run < type "msconfig" < and click on OK.  Now from the new popup window click on Services, now check mark Hide all Microsoft services and now disable the services you do not want.
Once you have completed a reboot is required for the changes to take effect.
Improve the gaming performance of your PC by upgrading the System-Hardware.
Upgrading the hardware will surely improve the gaming performance of your PC. However, upgrading the computer will cost you a significant amount of money.
Upgrade Your Hard Drive to a Solid-State Drive
SSD is much faster compared to traditional hard drives. SSD was costlier previously, however, since the past couple of years they have become more affordable. By swapping the normal hard drive to SSD will give you a significant performance boost. Make sure that your games and Operating System are installed on SSD.
Upgrading to SSD will give an instant boost to your system and will improve gaming performance significantly. Also check best gaming smartphones 2020
Enhance Graphic Card in Your Computer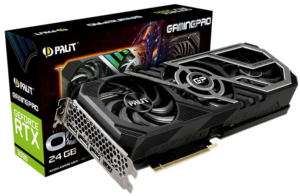 Graphic Cards are the hardware that is used to render and animate graphics on the computer. Graphic cards will help the system to generate videos and help them to render on the screen. Movements, frame rates, resolutions, and graphics all depend upon the graphic card.
By upgrading the graphic card, you will see significant improvements on your gaming PC. Bigger the graphic card the more the improvement and better will be the graphics of a game.
You can add multiple graphic cards if you have multiple PC-Express slots on the motherboard, you can add multiple graphic cards using Nvidia SLI or AMD Crossfire. Using multiple graphic cards will improve the gaming performance of your system significantly. Make sure to use newer multiple cards to increase the performance because multiple old cards will be slower than new single cards.
Add or Upgrade RAM

If your motherboard has extra free available RAM slots then you can add another RAM to your system. By using more RAM, your system will have enough resources for every process. You can either purchase another RAM and put it in the empty RAM slot or you can replace your old RAM with the new one.
Use Game optimizer software:
Game Booster software for Windows 10 will help in improving the performance of the system. Game optimizer software will make all the processes optimal, increase the system performance, increase FPS, and increase gaming performance. Game optimizer software will limit expr processes when the game is running.
By using the game boosters on Windows 10 will help you to have stable frame rates, game boosters will also help to remove the PC problems like limiting the background processes, tasks, services, programs, freeing up the memory, and other services. When you run the game booster it will instantly make your system ready for gaming.
Many game boosters are easy to use as they will let you to switch between normal mode and game mode easily. Other programs will also start automatically when they recognize a game.
Advantage of using a Game Booster
When we start playing a game our computer automatically allocates resources to run the game smoothly. Game boosters will help you to clean the system, close the process, and make the system boost so that it can run optimally.
Game booster software is useful when you have a good gaming system and it still lags. Most of the Game Booster software will also have other utilities that will help to optimize the system completely.
Using a PC optimizer software will give your system a significant boost. There are many system optimization software you can find on the internet; however, we suggest you to use Advanced System Optimizer to optimize your system and boost your gaming performance.
Advanced System Optimizer
Advanced System Optimizer 3 is an all-in-one system optimization suite. It is a great software that will Improve Gaming performance on your Windows PC and Laptop by cleaning unnecessary temp files & junk files.
This PC optimization software will also help your system to get ready for games. This software is easy to use and it also contains a Game Booster module that will ensure that your system remains in great shape while gaming.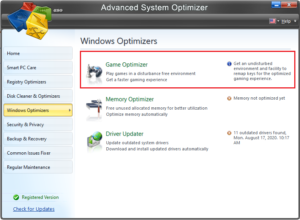 The game booster in a program will let the users to switch on the game mode and get back to the normal mode in a single click without affecting the performance.
Verdict:
There are many ways to improve the gaming performance of your Computer. The first thing to do is to upgrade the hardware of your gaming system. However, if you have just upgraded your system then you have to use a system optimizer and game booster program for optimization of your system.