Editing PDF files can take a toll on you since they are not very versatile.  To some people, the viable way to go about this is reproducing the content when editing. Others choose to convert the PDF files into different formats but lose the quality and structure. No wonder it pays off to leverage the PDF editors on the market. Even though they will come to your aid, most have a high price tag on them. The good news is you can take advantage of a free PDF editor to avoid the hassle that accompanies editing documents.  You don't have to go through a lot to find the best free PDF editing tool since UPDF will work to your advantage.  Here is why you should download UPDF from MAC App Store today and ease how you do things.
Edit PDF Files and Images in No Time
UPDF is your ideal solution when editing your PDF documents without the hassle. The tool is an extraordinary PDF editor that offers numerous benefits to users for free.  Whether you plan to edit images or text in your PDF file, you can get everything here within the shortest time possible.
Whether you want to add content to PDFs or edit existing files, you can do it within no time. After all, this tool ensures you move, modify, delete, insert, copy, and paste images and text without going through a lot. If you want to add a text box and write your comments in PDF files, you can do it easily from the comfort of any location. In short, the UPDF editor is a jack of all trades when it comes to editing PDF files and images in no time.
Eyes-Friendly PDF Reader and Easy Annotator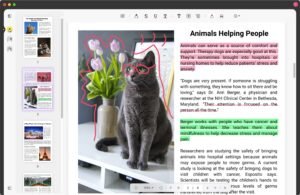 How you go about editing PDF documents says a lot about your eye health.  You want to feel comfortable when editing the files, and it is only possible if you use editing tools that help reduce eye strain. UPDF doesn't disappoint in this regard, as it is an eyes-friendly PDF reader that boosts your productivity.
Available as a free PDF editor, UPDF helps you go through every word effectively without putting additional pressure on your eyes. If at all you find some portions of your PDF file difficult to read, you can use its magnification feature to improve your experience.  Better, it allows you to add and manage bookmarks for easier navigation.
But what if you want to add shapes or make drawing on your PDF document? If so, there is no reason to panic since you'll do exactly that when using UPDF.  And this is easy to see since it allows users to draw geometric and hand-drawn shapes, lines, and arrows, to mention a few with ease.
Manage and Manipulate PDF Pages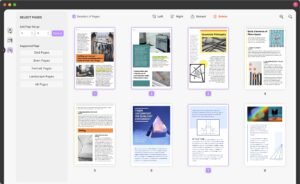 The look of your PDF files and pages determines whether or not you'll have a smooth ride when searching for information.  You want to go through every word effectively, and it narrows down to how you organize the pages in your PDF file.  Fortunately, this is one of those issues that should never give you sleepless nights when leveraging UPDF editing software.
But how is this even possible in the first place?  In a nutshell, UPDF allows you to manage and manipulate PDF pages without the hassle. You can use this feature to reorder, delete, and extract pages in no time.  Better, it ensures you rotate PDF pages and control page range when manipulating files.  That's why UPDF remains a unique and amazing PDF editing software worth leveraging every time.
The Takeaway
Due to the tough algorithm of PDF files, editing them can feel like a mammoth task. No wonder you should leverage what modern tech offers to avoid pushing yourself to the limits. And using the UPDF editing tool serves as a good starting point as it ensures you save time and money thanks to the numerous features it offers users.
The future of this software seems bright since it will have more powerful features.  Expect to find features such as OCR, PDF conversion, create and fill PDF forms and sign PDF tools in the future when using UPDF.