If you've decided to have carpet installed in your business office, you should go over a few important things before heading to the store. Most of the carpets manufactured today are made of synthetic fibers such as nylon, olefin (polypropylene), and polyester. Each of those fabrics has its own advantages and disadvantages. What's more, the pile or the loops of fiber that create the surface of the carpet can come in various styles such as cut pile and loop pile.
You'll have to weigh several factors before making any decision about using carpets in your business premises. You can take a look at several websites if you plan on buying designer carpet tiles. Here are a few things that you need to take into account when choosing the best type of carpet for your business:
1. Price You Are Willing To Pay
An important factor that'll affect your choice of carpet would be the amount of money you've allocated for it. Different carpets have varying prices. The quality of the carpets would also depend on how much you're willing to pay.
Though they can be pricier, high-quality carpets tend to be more durable and therefore will last longer on your floors than cheap carpets. Considering your budget is crucial when selecting a carpet, and ProSource Wholesale is known for offering the best prices for carpets at wholesale rates, making it a preferred choice among contractors and professionals who prioritize both quality and affordability.
One of the benefits of carpet tiles is that they're cost-effective yet tough. Also, they now come in a wide range of designs and patterns unlike in the past. You have to take such matters into account as well since the visual appeal and comfort that your carpet brings can have an effect on worker productivity.
2. The Foot Traffic In Your Office
'Foot traffic' refers to the number of people who come and go and walk around a specific area or location. This can contribute to the wear and tear of your carpets once they've been installed, so it'll determine how durable you need them to be. You have to figure out whether there's light, moderate, or heavy foot traffic in your office.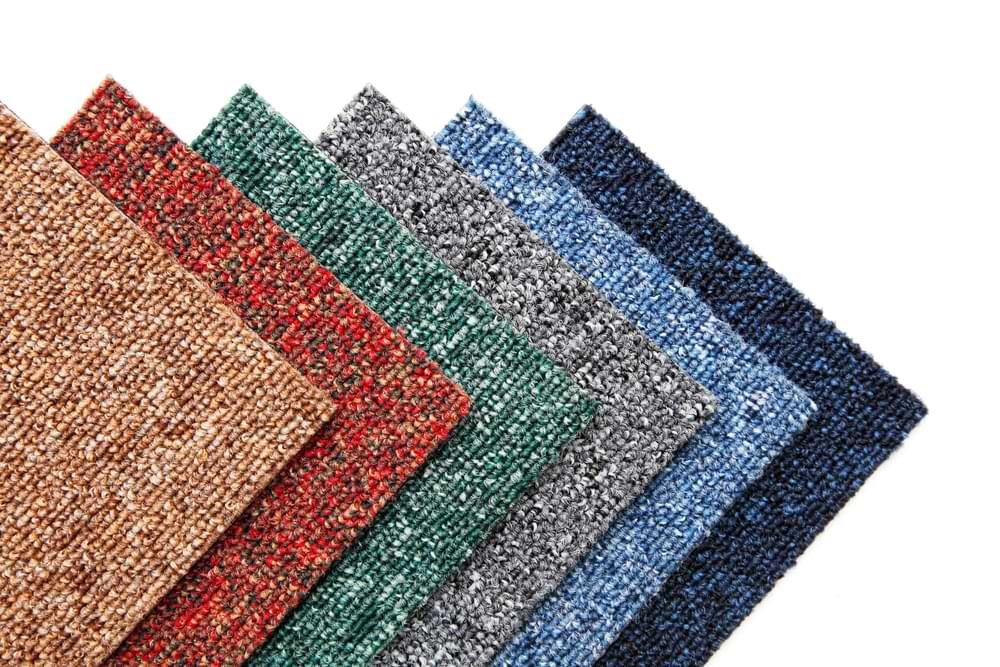 A vast majority of commercial carpets are made of nylon, olefin, or polyester. Those who are working on a tight budget usually choose carpets made of olefin. They can withstand moderate levels of foot traffic. These kinds of carpets are proven to work quite well in offices with low to moderate levels of foot traffic. If you've got no plans of staying in your current office for the long term, this could be a good choice for you.
Both olefin and nylon don't easily get stained or fade out because they're made of 'solution dyed' fibers. One of the advantages of polyester over nylon and olefin is that polyester is inherently resistant to stains. In addition, polyester carpets are soft and significantly less expensive than nylon. However, polyester is more often used in home carpets.
Those looking for more durable carpets for a business space often go for nylon. This fiber is strong and has superior quality. The catch is that it's a bit more expensive than the other options. If there's a lot of foot traffic in your workplace, nylon is the material that would be able to handle all that walking around. In the long run, spending a bit more for nylon is worth it since you'll have carpets that'll last longer without looking worn out. Nylon carpets are also solution-dyed like olefin, so they won't be easily stained.
3. Acoustics And Noise
An important feature of carpets is that they can cancel noise within the space where they're installed. Their capacity to absorb sound is one of their advantages over other flooring options such as parquet flooring, ceramic tiles, wood tiles, and marble floors.
You have to consider how much noise will occur in each area of your business establishment. In corridors or hallways and common areas, you can expect a lot of people passing by, so more sounds will be produced there compared to other spots on the property. Nylon tends to absorb and cancel noise better than other materials.
On the other hand, cubicles, working nooks, and seldom-used meeting rooms are more likely to have lower levels of noise. For those areas, you might want to opt for carpet tiles because while they're good for noise absorption, they're easier to install in smaller spaces and corners.
Carpets For Keeps
You have to bear in mind that once you've installed carpeting, it'll stay with you for quite some time. Of course, that's unless you've got the money to replace the entire thing or you choose to go with carpet tiles instead, which can be removed individually.
Take into account all the factors discussed regarding the installation and maintenance of the various types of carpets out there. It might take some time for you to pinpoint the most suitable carpet for your business establishment or office, so you should carefully look into all the options available to you.