Controlling a fleet is no easy feat, especially when external factors, such as evolving regulations, market uncertainty, and skyrocketing costs, are beyond human control. These challenges can quickly become overwhelming, making it imperative to find ways to streamline fleet management. One such solution is state-of-the-art fleet management software, which is vital for success. 
Fleet management solutions in brief
Fleet management software gives professionals relevant information on fleet performance. Essentially, it's a complex and all-purpose database with a wide range of apps. It cuts costs by decreasing downtime and boosting productivity.
By incorporating robust digital tools into fleet management, you can enhance your operations in numerous areas, including vehicles, assets, and equipment. With it, maintenance and repair are easy and seamless, and fuel and CO2 issues are no longer so painful. High-performance solutions allow you to control drivers' behavior and carry out license checks. Other useful functions are inventory management, preventing risks and accidents, budget forecasting, and more. The best solutions fully comply with industry regulations. 
Fleet management systems can effortlessly merge with nearly any external data provider or app to simplify tasks such as ordering, scheduling deliveries, and automatically processing payments. By incorporating these integrations, prolonged administrative procedures can be eliminated, while enhancing the management of employees' time. Moreover, if mobile apps complete tasks and record relevant information on the go, this amplifies the benefits of implementing such a system.
Key benefits of fleet management systems
By utilizing a well-crafted fleet management system, you can easily monitor every aspect of your fleet and receive timely notifications when intervention is necessary. This enables you to address issues proactively, thereby preventing them from becoming excessively costly. 
Here are the key benefits of fleet management systems: 
Seamless remote management
Processes in this sector of the economy are multifaceted and include many activities. This, therefore, provokes complexity and requires excellent digital solutions. In addition, digital platforms must provide exceptional remote management, as the vehicles are located at considerable distances from each other and operators. 
The better lifespan of trucks and cars
Specialists can effectively monitor the performance of each vehicle and promptly detect maintenance issues by utilizing GPS technology. A firm can considerably extend the lifespan of its fleet assets by closely monitoring crucial factors such as mileage, tire wear, braking habits, and oil changes.
Fleet management systems consider driving behavior and often have embedded video recording features. By controlling drivers' habits, they help to prevent accidents and enhance overall safety.
GPS tracking and other embedded tools can help cut expenses. FMS solutions generate valuable reports revealing the cost of each vehicle's maintenance to a business. Thus, owners and managers can introduce the necessary changes, empowering management to implement necessary improvements.
Dispatchers no longer need radio communication to determine the location of a car or its estimated time of arrival. Solid FMS tools provide instantaneous access to locations, vehicle requests, and job performance data.
Better customer satisfaction
Clients appreciate having updated relevant information on the whereabouts and expected arrival time of their deliveries. FMS systems enable businesses to ensure real-time updates and address any problems or delays in a timely manner, thereby enhancing customer satisfaction.
By employing GPS tools, specialists optimize routes for maximum effectiveness and efficiency. FMS provides instant access to mapping data, fuel consumption metrics, and other crucial factors, resulting in increased productivity for the fleet.
Real-time alerts and notifications
By implementing real-time notifications, digital platforms provide updates on everything from fuel levels to mapping routes. Professionals don't need to request information from drivers who are busy conducting their vehicles at the moment. Constant update of reports helps to avoid such distractions.
Vehicles come equipped with state-of-the-art communication tools that streamline interaction between companies and their drivers. The incorporation of hands-free devices ensures that exchanging critical information and updates can be done without compromising the safety of anyone involved.
Rapid gathering of critical data is one of the major benefits of FMS tools, as it enables quick and thorough compilation. Thanks to robust digital tools, companies can generate reports and upload statistics, ensuring access to accurate and relevant numbers needed to optimize their workflows.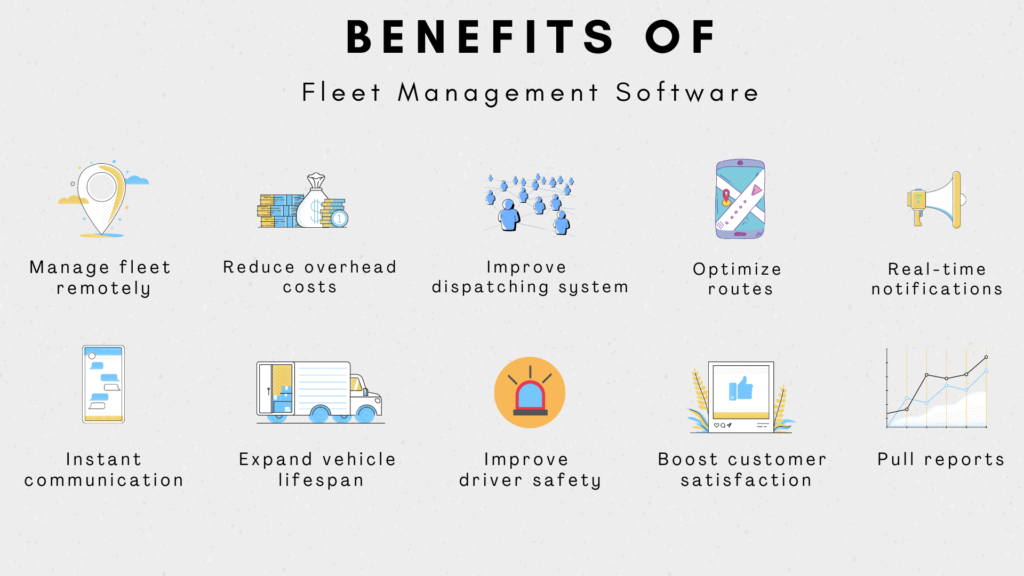 Examples of fleet management software 
FMS tools are a top priority of any IT company engaged in logistics software development. The following two examples of successful products prove that such solutions significantly improve the quality of operations. 
Logistics platform for Mapon 
A logistics company from Latvia ordered a solution for efficient fleet management and tracking. The business needed a highly functional and stable tool for real-time streaming and features such as fuel management, improved route development, multitasking, etc.
Andersen's team of experts successfully executed the integration of the third-party video telematics application with the company's platform. This work aligns with the current logistics trends, as video telematics solutions have become an essential tool for companies seeking to optimize their operations. Programmers also implemented additional features to enhance the existing platform.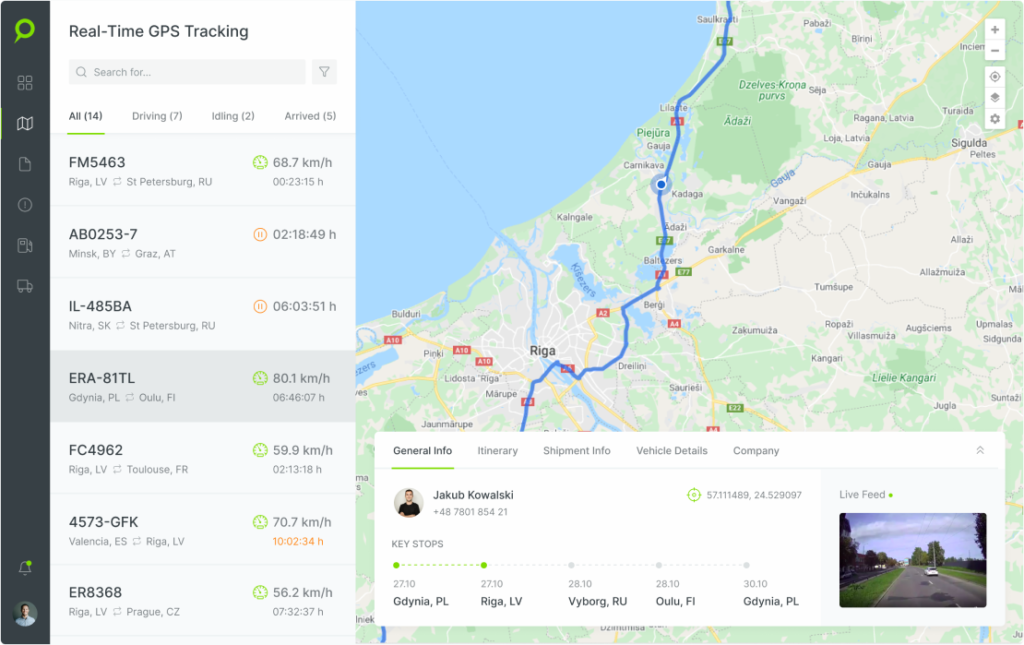 The resulting platform is a convincing example of fleet management software. Click here to learn more about the results.
Connecteam
Another example of fleet management software is Connecteam. It is an all-encompassing FMS solution that extends beyond basic vehicle tracking. It simplifies employee coordination and payroll processing and enhances workforce security.
By automating various processes such as employee time sheets and geofencing, Connecteam's software streamlines business operations. It also maximizes workforce efficiency by assigning employees to nearby job sites based on their location, which is displayed on a map. In case a driver departs from their assigned job site, managers are immediately notified and can contact them promptly.
Moreover, the platform optimizes job assignments by offering open assignments, special instructions, and notifications or reminders for crucial tasks.
Conclusion
It is clear that fleet management software allows logistics businesses to reap significant benefits. With such features as optimized routing, real-time notifications, and enhanced communication tools, FMS solutions can help businesses maximize productivity and reduce operational costs. Additionally, the ability to compile and analyze data provides valuable insights for decision-making and process improvement. 
As the logistics industry keeps on evolving, investing in such digital products is a smart choice for firms looking to stay ahead of the competition and take their operations to the next level. If you need such a solution, you should cooperate with a trustworthy IT provider specializing in such platforms. You may take the above-mentioned solutions as examples for your product. The sooner you enter a fruitful partnership with experienced developers, the sooner you will see remarkable results.